6月26日,在2017夏季达沃斯举办的前一天,中国日报报道大米科技。
《中国日报》是中国国家英文日报,创刊于1981年,全球期均发行90余万份,其中,海外期均发行60余万份。《中国日报》作为中国了解世界、世界了解中国的重要窗口,是国内外高端人士首选的中国英文媒体,是唯一有效进入国际主流社会、国外媒体转载率最高的中国报纸,也是国内承办大型国际会议会刊最多的媒体。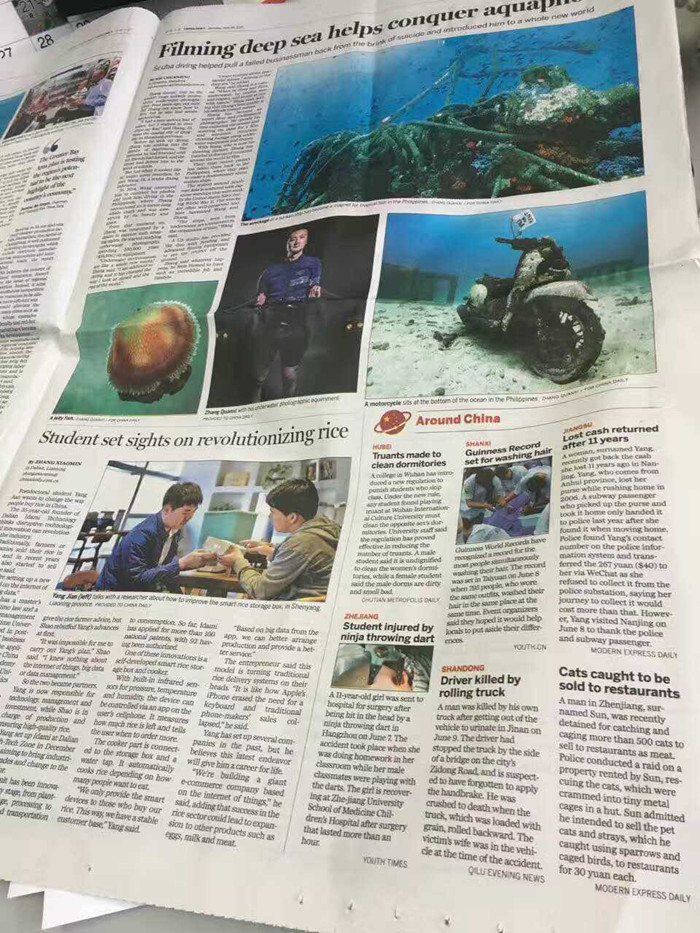 报道全文如下:
Student set sights on revolutionizing rice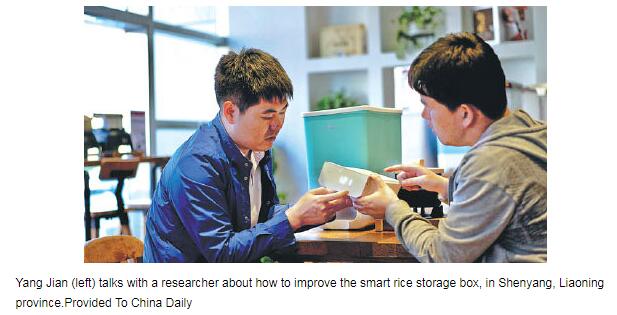 Postdoctoral student Yang Jian wants to change the way people buy rice in China.
The 35-year-old founder of Dalian Idami Technology thinks disruptive technological innovation can revolutionize the industry.
"Traditionally, farmers or companies sold their rice in shops, and in recent years they've also started to sell online," he said.
"But we're setting up a new model based on the internet of things and big data."
Yang, who has a master's degree in maritime law and a doctorate in management from Dalian Maritime University, is now engaged in postdoctoral research of business innovation through the application of big data at the China Business Executives Academy in Dalian and Tsinghua University's School of Economics and Management.
He met Shao Deji, a rice farmer in Wuchang, Northeast China's Heilongjiang province, while helping judge an entrepreneurship competition. Shao was trying to sell his rice online.
"I was shocked to hear that his annual sales could reach 300 million yuan ($44 million), yet he made less than 3 million yuan profit," Yang said.
The entrepreneur tried to give the rice farmer advice, but Shao rebuffed Yang's advances at first.
"It was impossible for me to carry out Yang's plan," Shao said. "I knew nothing about the internet of things, big data or data management."
So the two became partners. Yang is now responsible for technology, management and investment, while Shao is in charge of production and ensuring high-quality rice.
Yang set up Idami at Dalian High-Tech Zone in December 2014, aiming to bring industrial upgrades and change to the rice sector.
The result has been innovation at every stage, from planting to storage, processing to packaging and transportation to consumption. So far, Idami has applied for more than 100 national patents, with 92 having been authorized.
One of these innovations is a self-developed smart rice storage box and cooker.
With built-in infrared sensors for pressure, temperature and humidity, the device can be controlled via an app on the user's cellphone. It measures how much rice is left and tells the user when to order more.
The cooker part is connected to the storage box and a water tap. It automatically cooks rice depending on how many people want to eat.
"We only provide the smart devices to those who buy our rice. This way, we have a stable customer base," Yang said.
"Based on big data from the app, we can better arrange production and provide a better service."
The entrepreneur said this model is turning traditional rice delivery systems on their heads. "It is like how Apple's iPhone erased the need for a keyboard and traditional phone-makers' sales collapsed," he said.
Yang has set up several companies in the past, but he believes this latest endeavor will give him a career for life.
"We're building a giant e-commerce company based on the internet of things," he said, adding that success in the rice sector could lead to expansion to other products such as eggs, milk and meat.